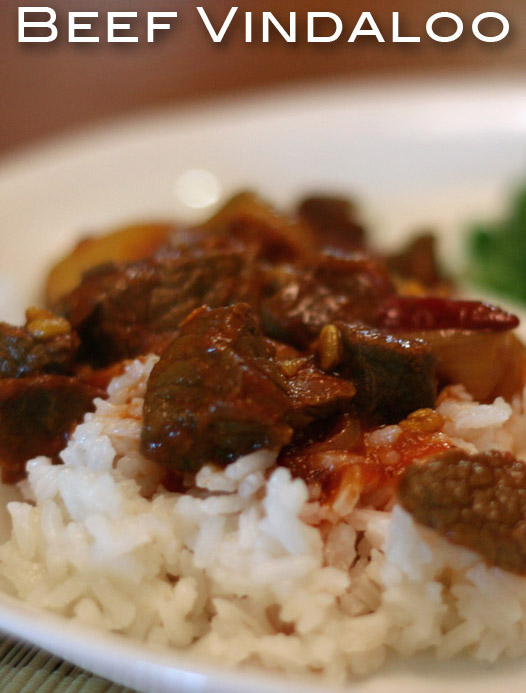 I love trying to make foods from different cuisines at home, so I was quick to say yes when Eastern Spice Company offered to send me one of their products to try out and review. The idea behind the fledgling company is to "make Eastern cuisines much more accessible to the average Western kitchen" by supplying tins of pre-blended spices. Each tin contains enough spice to make one complete recipe, and Eastern Spice Company has a recipe for each blend on their web site.
They currently offer four spice blends — Indian Chicken Curry, or Tamatur Murghi; Indian Tangy Curry, which makes chicken or beef vindaloo; Indian Coconut Curry, or Kaari Chawal; and Indian Vegetable Stir Fry, or Aloo Subji — all of which I'd like to try because I have yet to meet a curry dish that I don't like. They sent me the vindaloo blend, and Rockford said he'd rather try it with beef than with chicken. So that's what we did.
Our beef vindaloo was delicious and much spicier than I'd expected it to be, which was fine by me but too much for Poppy. Pete, Rockford and Rockford's parents didn't have a problem with the heat level, either. We all chomped it up while Poppy feasted on rice. (We served the vindaloo with a little yogurt on the side to cut the heat.)
The only thing I wasn't crazy about was the recipe format. The vindaloo blend is meant to be made with either chicken of beef, and the proteins require slightly different preparations. The recipe on the Eastern Spice Company web site co-mingles the instructions, which made it a little bit confusing. It would've been easier to navigate if they'd had separate recipes for beef and chicken.
A set of four spice blends would make a really nice housewarming or hostess gift, and at $4 a tin I think they're definitely worth the price. The guys at Eastern Spice Company gave me a coupon code to share with you, too, to make them even more affordable! The code, ESC10, will take 10 percent off your order and is good until Friday (03/14/14).
Rockford and I will both be enjoying leftover beef vindaloo for lunch today, and let me tell you: I am really looking forward to lunchtime.
Here's what we're having for dinner the rest of the week: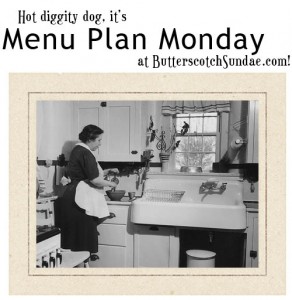 Monday: Sweet Spicy Chicken Tenders
Tuesday: Chilaquiles Verdes
Wednesday: Rosemary Chicken
Thursday: Spicy Taco Soup
Friday: Pizza
I'm linking this up with OrgJunkie.com's weekly Menu Plan Monday thing.