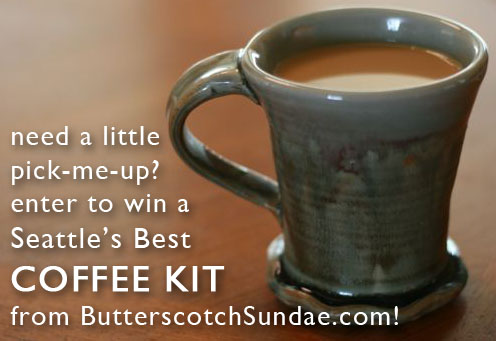 Seattle's Best sent us some of their coffee to try, and resident coffee expert Rockford liked it. I asked him to write a review of it for me, but he doesn't talk about coffee. He just shambles into the kitchen in the morning, brews some joe, tosses it back and then springs off to work like a feisty little squirrel on the trail of a big ol' mess of acorns. It's exactly like "Shaun of the Dead" + "Fight Club" + "Ice Age," except completely different because my husband is neither zombified, nor Edward Norton, nor an antediluvial squirrel nor — spoilers, maybe? I haven't actually seen or read "Fight Club" — delusional.
He's just very busy. He really does love coffee, though. As evidenced by Exhibit A:
Anyway.
Rockford rarely drinks more than one cup of coffee at home, so last year we traded our old "normal" coffee maker in for one of those bad-for-the-environment single-cup models. After he'd used the K-cup sample from Seattle's Best, we used the so-called "pour over" method to make the ground House Blend they'd sent.
(Lifehacker says the pour-over is for coffee snobs; I say it's for people who do have a bag of coffee but don't have a coffee maker. Tomato-tomahto, Lifehacker.)
For Rockford's pour-over coffee, I put a little cream and sugar in the bottom of the mug and a tablespoon of ground coffee in the be-filtered pour-over funnel thing. Then I slowly pour in 8 ounces of almost-boiling water, and a few minutes later it's coffee time. I don't drink much coffee myself, but I do have a cup of hot cocoa most mornings. Some mornings require more of a kickstart than others, though, so I have also been known to give my morning cup of hot cocoa a lift by doing a "lite" coffee pour-over into my cocoa mix. I use about a teaspoon of ground coffee and 8 ounces of water for my DIY mochas. It gives my drink just enough oomph, and it's considerably easier than making a whole cup of coffee just to season my cocoa.
Vaguely Related Sidebar

I never drank coffee until I was in college, but it wasn't because I was pulling all-nighters or anything like that. It was because I worked at the front desk of a hotel. By and large, it was a pretty easy gig, aside from occasionally being required to unclog a toilet or getting yelled at by an irate businessman or when the person on the midnight-8am shift decided not to come to work and the assistant manager thought it would be a fine idea to have the person who'd worked 4pm-midnight (i.e. me) go ahead and cover it. That last part is why I started drinking coffee, because that happened more frequently than you might expect, and it's where I learned that I prefer my coffee spiked with chocolate.
My guy might not be so outspoken about his love of coffee, but Seattle's Best has rounded up a bunch of guys named Duncan who are. Here's what they had to say:
Even if your name's not Duncan, Seattle's Best would like to give you the opportunity to try their brew. Go to the Seattle's Best Coffee Facebook page for a free sample of their House Blend; it's available now through April 30, or while supplies last.
A sample isn't enough to fuel your day? Then you should definitely enter to win one of five coffee kits that we're giving away! Each kit includes a bag of House Blend packaged coffee, a House Blend K-Cup sample and a Seattle's Best Coffee travel mug. Good luck!
Congratulations to Hannah, Mary, Amy, Karla and Don! There is coffee in your future.