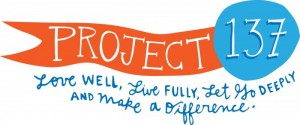 I half-heartedly thought about joining author Patti Digh's Project 137 for a few weeks when I first heard about it. It's an online class of sorts, designed to help its participants "to be more mindful, to clear ground, and simplify, and do all the things we put off but need doing." I could use help in all of those categories, but I put it off and put it off and then it was full. And so, I thought, that decision had finally been made for me.
Then about a week after the project kicked off, Patti opened it up for a few more participants. This time I didn't think about it. I signed up. I was already a few days behind, since I'd registered late, so I wouldn't be finishing on December 31st as intended. But I forged ahead anyway, and the first few days were fun. The assignments were things like Make a List of People You Love and then, a few days later, Write One of Those People a Letter & Tell Them How You Feel. I like writing, and I love making people feel good. So it was all rainbows and puppies for a few days.
Then I came to the assignment that knocked me down: Write a love letter to yourself.
I'm a little embarrassed to admit this, but just trying to make a list of things I like about myself left me kind of emotionally shell-shocked for the better part of an afternoon. My self-esteem is not so great, I knew, but I was surprised at how hard that exercise was and at how deeply it affected me. I didn't realize, I guess, that I didn't even want to think about myself. (Let that not be confused with not being selfish. That's another barrel of beans altogether.) And now I had to write a full-blown mushy-gushy letter detailing the things I love about myself. I let the assignment slide for six days, doing my best not to let it skitter past the far outreaches of my mind.
And then one day I did it. I got out my pen and my composition notebook, and I wrote myself a letter. I'm not sure I really hit the mark as far as writing a love letter goes — it isn't terribly mushy — but I think it was a pretty nice pep talk, at least. I'm supposed to give it to someone and have them mail it to me before the end of the year, but so far it's just sitting in my office/closet. But wrote it, and it didn't leave me in tatters.
That's progress, I think. Maybe by the end of this I'll be able to rattle off things I love about myself with zero hesitation.
What about you? What do you love about yourself, and is it easy for you to pinpoint those things?