YOU GUYS.
LOOK AT THE PICTURE IN THE BOTTOM LEFTHAND CORNER.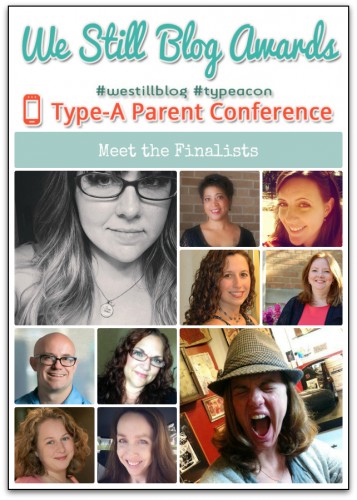 THAT IS ME.
WHOA NELLY.
I'm a finalist for the Type-A Conference We Still Blog award. The other nominees are all wonderful, and I count a few of them as friends (not that the others aren't nice people; I just don't know them). I was so shocked and happy when I got the email, and I'm also super nervous about the conference now, because I have to stand in front of a bunch of wonderful bloggers and read the post in question to them. (I can't tell you which post it was just yet, but I will after the conference.)
The other nominees are:
They are all excellent writers, and I'm guessing their nominated posts will be Somewhat Serious and Potentially Cry-worthy. Mine was an attempt at humor, and I'm afraid no one will laugh. So probably I will need to take some Wacky Props for Distraction.
Friends, if you will be there I am counting on you to laugh even if you think my post is the dumbest ever.