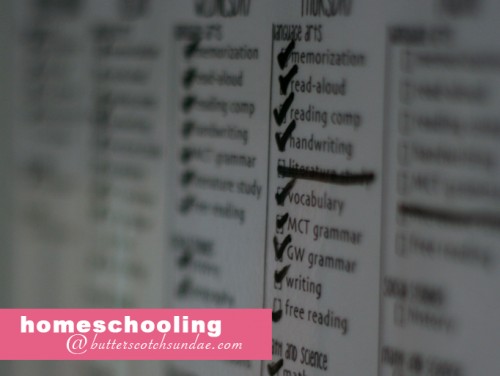 Our homeschool schedule has been pretty loosey-goosey over the last few years. The kids each had a daily list, and as long as they got everything (or, let's be honest: most things) checked off by bedtime, we were good. This year, though, they have so many extracurricular activities that I had to make a sort of draconian schedule. We start work at 9am, take a snack break at 10, do more work until lunch, and so on.
And you know what? School has been going really well so far this year, and I think the extra structure has a lot to do with that. Most days the kids are focused and cheerful and have finished their schoolwork before or shortly after noon. That's a great thing, because with the soccer and tae kwon do and tennis (oh my!), it's nice for them to have the afternoon to take it easy.
In the spirit of changing-things-up, I also reorganized the kids' daily to-do lists this year, and when I did it became obvious that we are really heavy on the Language Arts around here. That shouldn't have surprised me, I guess, since those are my favorite subjects, but it certainly makes for a long This Week In Homeschooling post. So for this week, at least, we're just going to talk about Language Arts.
Reading
Our first read-aloud of the year is always a "Harry Potter" book. (Or at least, it will be until 2018, I guess, because that's when we're slated to finish the series.) (Yes, we're only reading one a year. As it should be.) This year we were reading "Harry Potter and the Prisoner of Azkaban." Until last night, when the kids asked for another chapter before bed and suddenly it was 9:40pm and we'd finished the book. The kids, as always, loved it.
Pete is tackling his first chapter book! He's been wanting to check some of the "Star Wars" books out from the library, and I told him he could if he'd read it on his own. He's currently reading "Boba Fett: The Fight to Survive."
Poppy's been reading her way through the "Warriors" books and every "Garfield" compilation she can get her hands on. She's also started an official Literature curriculum this year, and her first book for that is "The Borrowers." She reads two chapters on Mondays, then spends a few days doing the accompanying worksheets from Reed Novel Studies' "Borrowers" unit. She doesn't always love it, but I really like the emphasis on vocabulary and reading comprehension.
Spelling
Pete finished Lesson 13 of "All About Spelling: Level One" this week. It was a lot of annunciating different letter blends and writing different phrases, and he wasn't crazy about it. Hopefully the next lesson will be a little more hands-on for him.
Vocabulary
Poppy started Wordly Wise 3000 toward the end of last year, so she's still working through their third-grade curriculum. She's doing very well with it, though, and she enjoys the program. I'll probably sign Pete up for it next year, too.
Writing
We finally resumed "Writing Strands" this week! The first step of Poppy's current lesson was making a list of things she enjoyed about a recent school day. "Reading 'Garfield' " was on the list.
Grammar
We've been reading a little bit of "Grammar Island" every day. The kids like the couch time, but I'm not sure how their retention is with the material. They'll be starting on the practice portion of the curriculum in a few weeks, so I guess we'll find out then.
Poppy's still working through "Growing with Grammar." She didn't do anything with it over the summer, and she definitely hasn't retained much of what she learned from it last year. She still enjoys doing the work, though, so we're going to stick with it.
"First Language Lessons" is still another cuddle-up-and-read project for Pete and me, and we're both fans of that. He seems to be remembering the information, too, which is a good thing.
Poetry
This year Poppy is doing a curriculum produced by the Mensa people called "A Year of Living Poetically." It includes a little bit of poetry analysis as well as stuff about rhyme, meter, etc. Last week she did John Donne's "No Man Is an Island," and this week she's been working on "Sonnet 116″ by William Shakespeare. She didn't have much trouble memorizing the Donne, but Shakespeare is giving her a little bit of trouble. She'll probably have it done by next week, though.
Pete is memorizing the same poems that Poppy did a few years ago. Last week he did Christina Rosetti's "Fly Away, Fly Away Over the Sea," and this week he's working on Shel Silverstein's "Bear in There."
Wanna read more about homeschooling? Check out the Weird, Unsocialized Homeschoolers weekly linky thing!