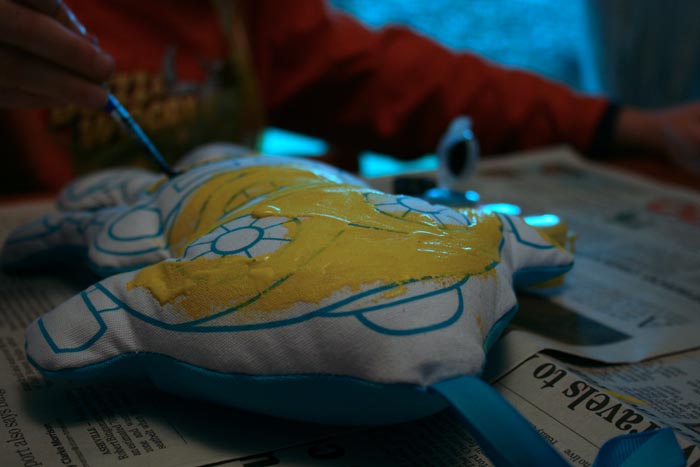 Instead of doing our homeschooling roundup by subject, I'm going to do it by day. Viva la revolución, and so forth.
Monday

The kids started their day doing some coloring while I read to them about Walter Raleigh and the Lost Colony. That's always been one of my favorite history stories, and I was pleased that the kids were just as fascinated by it as I am.
We finished that up and then got ready for co-op. Monday was — cue the fireworks and trumpets — our last day of homeschool co-op for this semester. It was a good semester, class-wise, but it's always nice to have a break. Poppy decorating cookies and cupcakes in her baking class (of which I was one of the teachers), and Pete made an illustrated book in art class. Then we had lunch and the kids played on the playground for an hour. And then we had our last class of the day. Poppy and I made snowglobes in "My Little Pony" class, and Pete made a sweet PacMan ghost patch for his torn khaki pants in PacMan class.
After class the kids played for awhile, and then we came home. And the 15 minutes I gave them to play on their various electronic equipment swiftly turned into an hour, but that's OK because we all needed to decompress a little. The kids love co-op, but it is a crazy-high-energy muddle of chaos and it saps all of our energy.
After we'd recharged, we did the rest of the day's work:
A Teaching Textbooks quiz; the intro to this week's spelling list; and some work on contractions in grammar for Poppy.
And for Pete: The intro to his spelling list; a discussion about nouns and verbs; a math worksheet; a skip-counting game with his sister and me; and a little art time with some paint and a stuffed robot.

Tuesday
A couple of the kids' friends were going to spend most of the day with us on Tuesday, so Poppy and Pete got off to a great start so they could finish early. They finished their handwriting while I read a chapter of "The Penderwicks" to them, they did their spelling, they knocked out their grammar — and then their friends' mom called to say they'd changed their plans.
Cue the massive disappointment. We were derailed for a little while, but we got back on track after watching a little TV. The kids did their math — Teaching Textbooks for Poppy and McRuffy math for Pete — and practiced their tae kwon do forms in the living room, and then we loaded into the car to go to Poppy's dentist appointment.
Wednesday
We started Wednesday just like we start most other day: Breakfast, handwriting and a chapter of our read-aloud book. Next we talked about Walter Raleigh and the Lost Colony a little more while the kids did some related map work, and then we read a chapter of our US history book. It was about women's education, and how once upon a time some people didn't believe women were capable of learning. Poppy was shocked and offended.
Wednesday is a big running-around day for us, because Poppy has her piano lesson, ballet class and modern dance. She doesn't like ballet anymore, but she wanted to take one last class so she could be in "The Nutcracker" one more time. And like a big softie, I acquiesced. So we're spending a lot of time running to and from the dance studio these days. Between piano and the dance classes, though, the kids did their math, spelling and grammar.
Thursday
Thursday is normally a tae kwon do day, but the kids had haircuts scheduled in the middle of TKD time this week. (Tuesday's dentist appointment was at the same time, which meant no TKD at all this week. Pete was thrilled; Poppy less so.) We somehow managed to get all of the schoolwork* done beforehand, though, so it was a smooth and peaceful day.
* handwriting; chapter book; spelling; grammar; geography; math; piano practice for P; Rosetta Stone Spanish
Friday
Oh, Friday.
I overslept (after a rather long period of not sleeping last night), so our day didn't get off to a productive start. Once we finally did get started on school, Poppy announced that she wasn't feeling well. And clearly she wasn't (I'll spare you the details). So today we've spent a liiiiittle time doing school — reading a few chapters of "The Penderwicks," working on their handwriting, doing a spelling test — interspersed with time cozied up on the couch watching "Littlest Pet Shop."
It's possible that we'll do math later. But not probable.